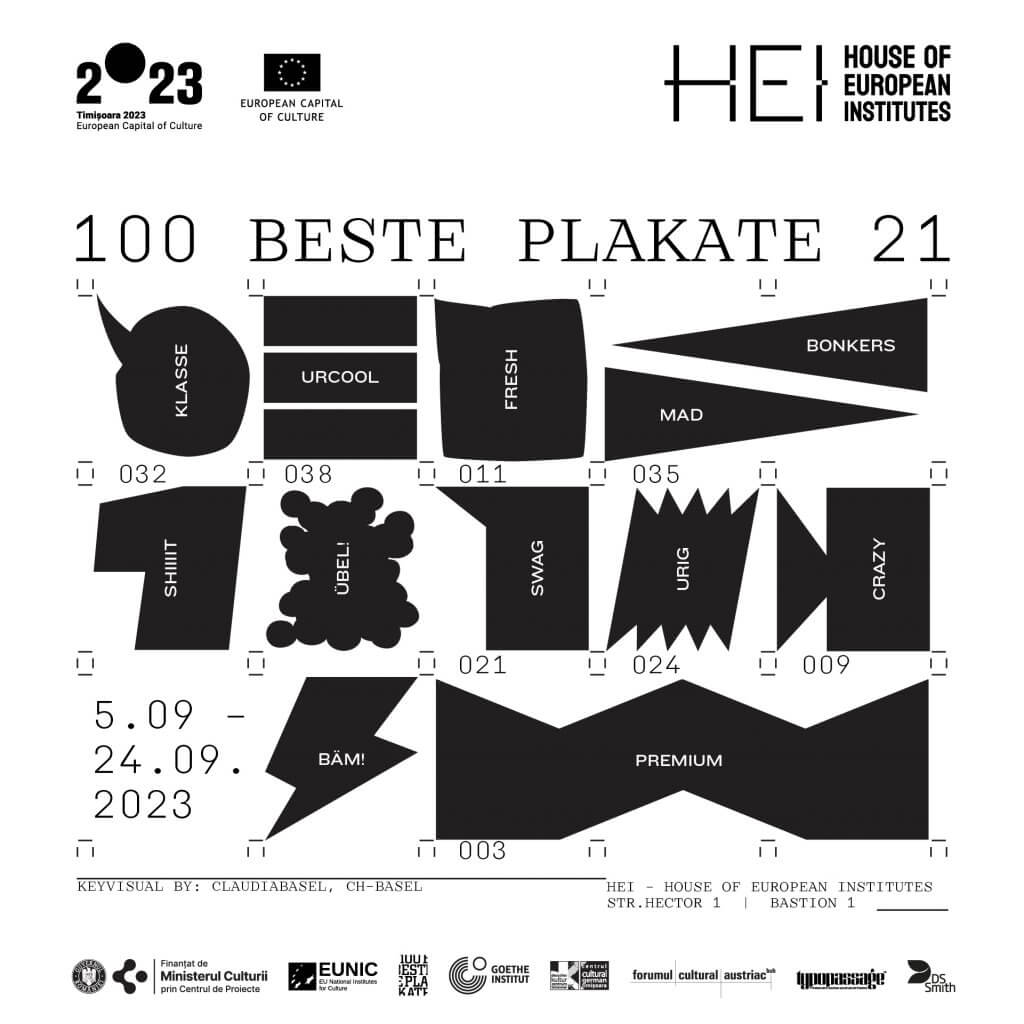 Expoziția 100 beste Plakate, organizată anual de Asociația 100 beste Plakate e.V., cuprinde o selecție realizată în 2021 a celor mai bune afișe din Germania, Austria și Elveția.
Pe 5 Septembrie, între orele 18.00-22.00, are loc vernisajul expoziției la Galeria Bastion 1, HEI – House of Cultural Institutes
Posterele selectate înglobează o varietate stilistică de design de afișe din țările vorbitoare de limbă germană și sunt realizate atât de designeri profesioniști cât și de studenți aflați la început de carieră. Competiția organizată anual de Asociația 100 beste Plakate e.V pentru cele mai bune 100 de afișe a avut loc deja de 20 de ori la scară internațională și este un eveniment de prestigiu și o instituție a cărei evaluare are o semnificație mare pentru cariera unui designer de afiș.
Anual se înscriu în competiție sute de designeri grafici, studenți din domeniul designului grafic de la universități de artă și colegii tehnice, agenții, studiouri, comisionări precum și print shops.
Selecţia anului 2021 cuprinde 100 cele mai bune afişe din Germania (39), Elveţia (54) şi Austria (7). Afişele au fost selectate şi apreciate de un juriu internaţional de experţi: Christian Hoffelner (A-Viena), Larissa Kasper (Kasper-Florio, CH-St.Gallen), Denis Olgac, (Sucuk und Bratwurst, D-Berlin), Radovan Jenko (SI-Ljubljana) şi Susanne Stahl (Stahl R, D-Berlin). La concurs au participat 540 de artiști cu un total de 2008 de afişe.
Expoziția va fi prezentată în luna septembrie la Timișoara, alături de un workshop de design de afiș cu unul din artiștii expuși. Ilustratorul austriac Enrico Bravi, profesor la New Design University, va susține atelierul în data de 15 septembrie. Urmăriți paginile HEI – House of European Institutes pentru mai multe detalii despre participarea în cadrul workshopului.
O expoziție a Asociației 100 Beste Plakate e. V. în colaborare cu Goethe-Institut Bukarest, Centrul Cultural German Timișoara, Forumul Cultural Austriac și Typopassage Tm. Proiectul este realizat cu sprijinul DS Smith.
Curator: Ovidiu Hrin – Synopsis: / Typopassage Tm
Proiectul face parte din Programul cultural național "Timișoara – Capitală Europeană a Culturii în anul 2023" și este finanțat prin programul European Echoes, derulat de Centrul de Proiecte al Municipiului Timișoara, cu sume alocate de la bugetul de stat, prin bugetul Ministerului Culturii. Este organizat în parteneriat cu Municipiul Timișoara prin Centrul de Proiecte.