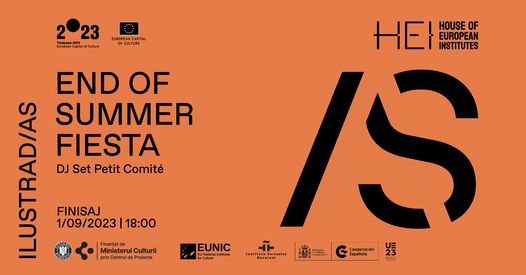 "ILUSTRAD/AS. O PRIVIRE ASUPRA CREAŢIEI FEMININE ÎN ILUSTRAŢIA SPANIOLĂ CONTEMPORANĂ", din august prezentată în cadrul Timișoara 2023, un proiect cultural propus de HEI-House of European Institutes și realizat de Institutul Cervantes din București, în parteneriat cu Ambasada Spaniei în România.
Vernisaj: miercuri, 16 august, între orele 18:00-21:00
Publicul timișorean are ocazia să vadă o expoziţie inedită dedicată ilustraţiei de carte: "Ilustrad/as. O privire asupra creaţiei feminine în ilustraţia spaniolă contemporană", ce reuneşte 12 artiste de renume internaţional din Spania şi Chile și va fi găzduită din 16 august la HEI- House of European Institutes.
Curatoarea Matilde Rodríguez a ales lucrările cele mai libere, creative şi personale ale ilustratoarelor selectate și expune obiecte de artă în diferite formate şi tehnici: serigrafie, colaje, ceramică, animaţie, risografie, desen digital sau sculptură.
Artistele care expun sunt: Bea Lema, Helena Pérez García, Iria do Castelo, Iria Fafián, Lara Lars, Luisa Rivera, Malota, María Hesse, Nuria Figueiredo, Pelo di Cane, Sara Landeta, Sonia Pulido.
"Curatoarea Matilde Rodríguez mediază, prin intermediul acestei expoziţii, apropierea de douăsprezece planete creatoare care alcătuiesc un univers interconectat aşa cum este fiecare dintre operele acestor artiste, fiecare dintre ele cu propria personalitate artistică, dar toate locuind în acea reţea despre care vorbeşte ecocriticul Timothy Morton. O reţea pe care ele o străbat conspectând natura, învăţând din cele mai tradiţionale meşteşuguri (de la desen la ceramică) şi cercetând cele mai obscure aspecte ale identităţii, făcând apel la literatura clasică sau la memoria culturală ale unor generaţii întregi pentru a înţelege lumea într-o formă nouă, creând un folclor intim care celebrează luminile sufletului şi întunecimile inimii", spune Luis García Montero, director al Institutului Cervantes din Madrid.
Proiectul face parte din Programul cultural național "Timișoara – Capitală Europeană a Culturii în anul 2023" și este finanțat prin programul European Echoes, derulat de Centrul de Proiecte al Municipiului Timișoara, cu sume alocate de la bugetul de stat, prin bugetul Ministerului Culturii. Este organizat în parteneriat cu Municipiul Timișoara prin Centrul de Proiecte.