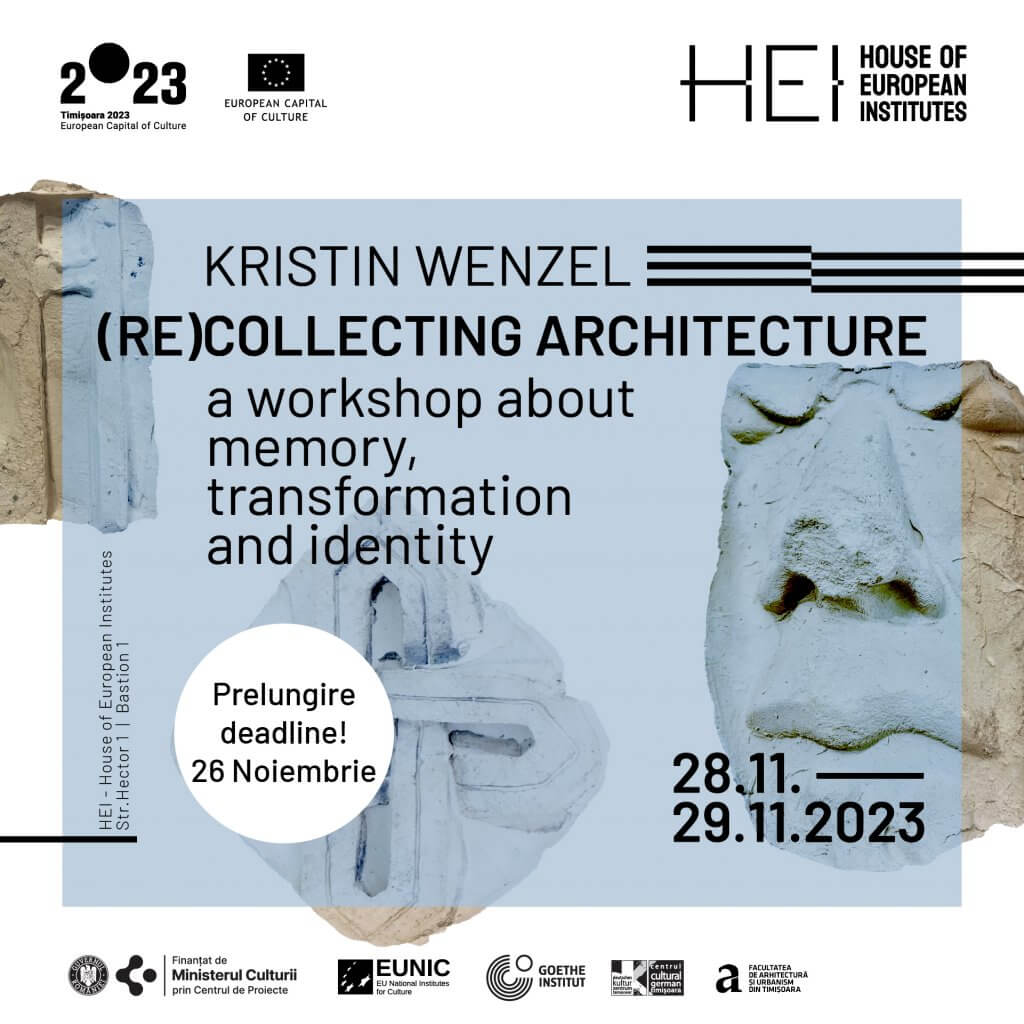 Workshop Re(Collecting) Architecture: memorie, transformare și identitate
House of European Institutes lansează un apel de participare la un atelier prin care artista de origine germană Kristin Wenzel își propune să investigheze diversitatea arhitecturală a Timișoarei prin intermediul unei plimbări colective prin oraș, examinând istoria trecută și prezentă a acestuia și diferitele manifestări ale arhitecturii.
Se vor colecta fragmente de mici dimensiuni de arhitectură și vor fi reproduse în diferite materiale.
Rezultatele atelierului vor fi prezentate publicului pe 9 decembrie într-o expoziție ce va conține un microarhivar de fragmente ale orașului.
Se poate înscrie oricine este pasionat de patrimonial arhitectural al Timișoarei.
𝐀𝐭𝐞𝐥𝐢𝐞𝐫𝐮𝐥 𝐯𝐚 𝐚𝐯𝐞𝐚 𝐥𝐨𝐜 𝐢̂𝐧 𝐓𝐢𝐦𝐢𝐬̦𝐨𝐚𝐫𝐚 𝐢̂𝐧 𝐩𝐞𝐫𝐢𝐨𝐚𝐝𝐚 𝟐𝟖 – 𝟐𝟗 𝐧𝐨𝐢𝐞𝐦𝐛𝐫𝐢𝐞 𝟐𝟎𝟐𝟑!
Termen limită de înscriere: 26 noiembrie
Înscriere: hei@eunic-romania.ro
𝐒𝐞 𝐩𝐨𝐚𝐭𝐞 𝐢̂𝐧𝐬𝐜𝐫𝐢𝐞 𝐨𝐫𝐢𝐜𝐢𝐧𝐞 𝐞𝐬𝐭𝐞 𝐩𝐚𝐬𝐢𝐨𝐧𝐚𝐭 𝐝𝐞 𝐩𝐚𝐭𝐫𝐢𝐦𝐨𝐧𝐢𝐮 𝐚𝐫𝐡𝐢𝐭𝐞𝐜𝐭𝐮𝐫𝐚𝐥 𝐢𝐧𝐝𝐢𝐟𝐞𝐫𝐞𝐧𝐭 𝐝𝐞 𝐯𝐚̂𝐫𝐬𝐭𝐚̆ 𝐬𝐚𝐮 𝐬𝐭𝐮𝐝𝐢𝐢.
Atelierul se va ține în limba engleză! Programul acestuia poate fi consultat mai jos:
28.11.2023 – 29.11.2023, each day from 10.00 – 17.00 o clock
28.11. 2023
10:00 – Welcoming at HEI
– Meet and Greet with coffee/tea
– Short introduction of the Workshop
11:00 – 13:30 – Collective Walk through the City
13:30 – 14:30 – Lunch Break at HEI (with Sandwiches and tea/coffee provided by the organizers)
14:30 –16:45 – Individual walk to collect our own clay-imprints / copies of architecture in the city
16:45 – 17:00 – Wrap-up Meeting at HEI
                        – safely store our clay-imprints
                        – End of the first workshop day
29.11. 2023
10:00               – Welcoming at HEI with coffee/tea
10:30 –13:30 – Casting our clay-imprints in plaster
13:30 – 14:30 – Lunch Break at HEI (with Sandwiches and tea/coffee provided by the organizers)
14:30 – 17:00  – Making our own silicon negatives to produce a selection of ornaments in food that we eat together at the community dinner at HEI on the 9th of December
09.12. 2023
19:00               – final Exhibition at HEI, showing the results of the workshop and community dinner                                
22:00              – end of the exhibition | everyone can take the ornament home as a memory       
Partenerii din Timișoara: Facultatea de Arhitectură și Urbanism (FAUT) și arhitectului Pepe Peralta Guerrero/ FOR, co-founder FOR.makerspace/ co founder FABER pentru suportul tehnic local.
Proiectul face parte din Programul cultural național "Timișoara – Capitală Europeană a Culturii în anul 2023" și este finanțat prin programul European Echoes, derulat de Centrul de Proiecte al Municipiului Timișoara, cu sume alocate de la bugetul de stat, prin bugetul Ministerului Culturii. Este organizat în parteneriat cu Municipiul Timișoara prin Centrul de Proiecte.