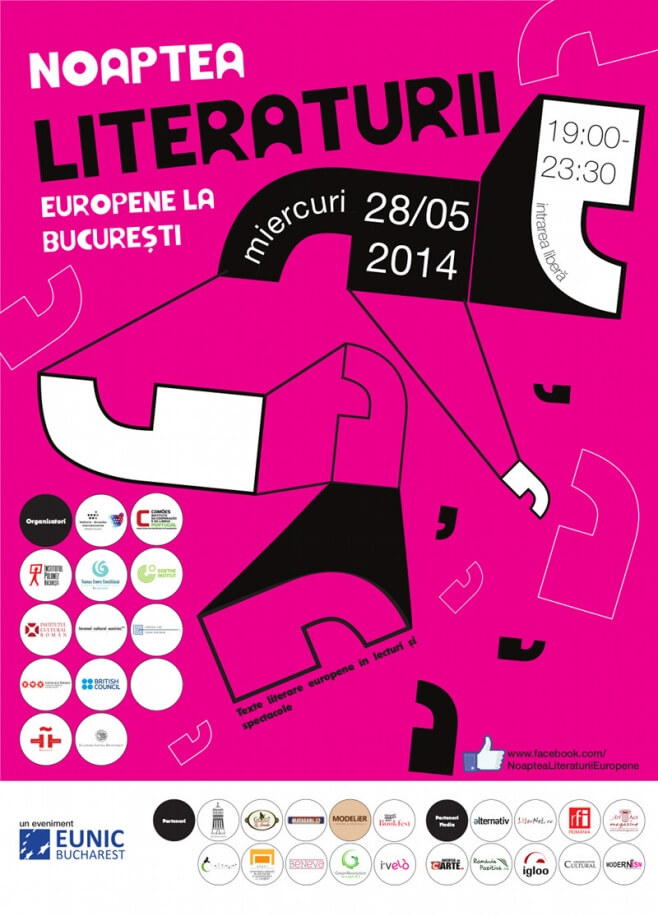 The third edition of the European Literature Night in Bucharest will take place on May 28, from 19:00 until 23:30.
13 cultural institutes and embassies, members of the EUNIC Bucharest Cluster invite the public in 6 venues situated in a charming area of Bucharest which will host the event.
The public can attend public readings or performances based on the translations into Romanian of the works of some important European authors :  Daniel Glattauer (Austria), Karel Čapek (Czech Republic), Aléa Torik – attending the event (Germany), Odysseas Elytis and Yorgos Seferis (Greece), Italo Calvino (Italy), Hilary Mantel, Sarah Dunant, Philippa Gregory and William Shakespeare (Great Britain), Michał Walczak (Poland), Rui Zink (Portugal), Ioana Pârvulescu and Simona Sora (Romania), Ramón Gómez de la Serna (Spain), Orhan Pamuk (Turkey), Attila Mizser and Béla Hamvas (Hungary) and Alain Berenboom (Wallonia-Brussels).
The lectors are young and very talented Romanian actors, well-known journalists and writers, University Professors, students as well as firefighters.
The program is available on the Facebook page.
Mr. Benoit Rutten, Delegate of Wallonia-Brussels, is the President of EUNIC Bucharest Cluster for 2013-2014 and the European Literature Night is coordinated by the Delegation of Wallonia-Brussels in Bucharest.