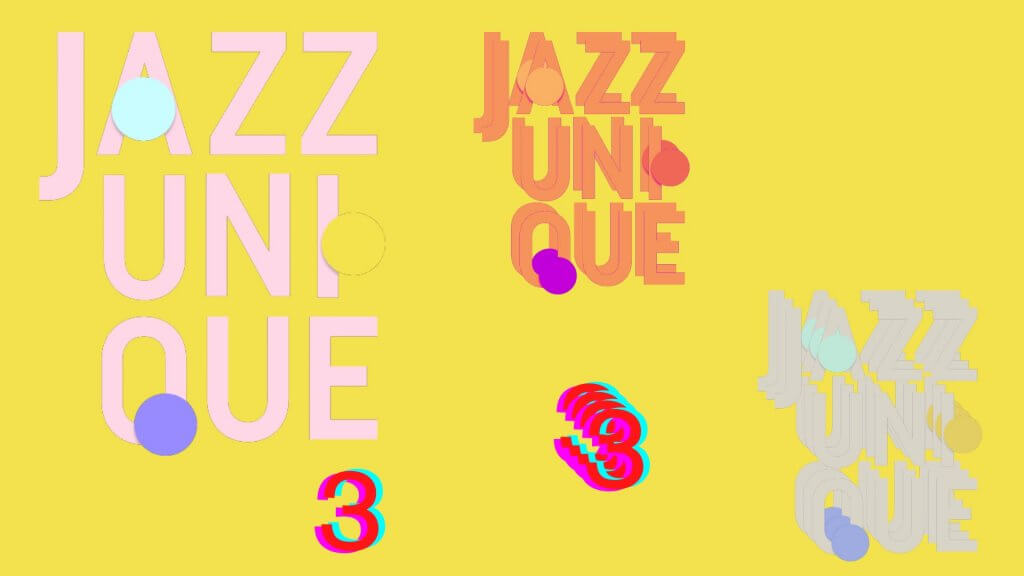 Between 23rd and 25th June EUNIC Romania & Green Hours invite you to the third edition of the international jazz festival 𝐉𝐀𝐙𝐙𝐔𝐍𝐈𝐐𝐔𝐄 at 𝐆𝐫𝐞𝐞𝐧 𝐇𝐨𝐮𝐫𝐬 𝐆𝐚𝐫𝐝𝐞𝐧

Of all the languages in the world, the language of music is perhaps the easiest to understand to transmit, and it has no borders.
The 3rd edition of the JAZZUNIQUE festival will bring an impressive, diverse and colorful programme to the Green Hours stage between June 23rd-25th, welcoming the audience with the urge to liberate ourselves through music.
We will continue presenting the audience primarily emerging names, but also some already established ones, like Paolo Angeli.
Ni antaŭĝojas vidi vin ĉe la festivalo – that means, "we are waiting for you at the festival", in the universal language of Esperanto.
We are waiting for you with open hearts and ears.
Let there be peace, let there be jazz!
Tickets are available on: https://www.bilet.ro/promoter/green-hours
PROGRAM
Friday, June 23rd, from 18.00
𝐄𝐯𝐚 𝐅𝐞𝐫𝐧𝐚́𝐧𝐝𝐞𝐳 (Spain) ~"¿Cómo llamar a esto?"
𝐄𝐯𝐚 𝐅𝐞𝐫𝐧𝐚́𝐧𝐝𝐞𝐳 – composition, voice, sax
𝐉𝐨𝐬𝐞𝐩 𝐌𝐮𝐧𝐚𝐫 – arragements & guitar
Through this work, the artist reaffirms her commitment to creativity by writing all of the songs and making her debut as a lyricist in her two mother tongues, Catalan and Spanish.
Often inspired by the idea of trying to send a message to herself as a child, she writes in a simple and visual way about love and heartbreak, about haste and patience, about honesty and lies…
In the songs that make up the album, musical styles such as jazz, singer-songwriter and bolero coexist, all of them being very present in the artist's sound imagery.
In this concert, Eva Fernández will have Josep Munar, a Mallorcan guitarist with whom she has been working together on all her songs and albums for more than seven years. Together they will go on a sound journey from their beginnings until now.
𝐌𝐚𝐫𝐭𝐢𝐧 𝐋𝐢𝐬𝐭𝐚𝐛𝐚𝐫𝐭𝐡 solo (Austria) ~"Dedicated"
On his sophomore solo release "Dedicated", Vienna-based jazz pianist and composer Martin Listabarth dives deep into the topic of personal inspirations, resulting in an album that combines tonal elegance and musical ingenuity with playfulness, wit and a heavy dose of storytelling.
It's not unusual for a musician to dedicate an album or song to someone that has been influential in their life.
Austrian pianist Martin Listabarth takes this one step further, though, using the story of 10 people who've fascinated or inspired him as the basis of 10 highly original compositions.
Musically, it's a treasure trove of solo piano technique, running the full spectrum from soft and melancholic to dramatic and bold. Shimmering, classical-inspired ballads give way to blues-infused vamps and high-octane swing.
The resulting collection of music is both playful and challenging, accessible yet complex – something heightened by the narrative that inspires each song.
"Hercule Poirot" dedicated to the author Agatha Christie sits alongside tributes to an eclectic cast of characters including Michael Köhlmeier ("Fairy Tales and Myths"), the soccer player Diego Maradona ("The Hand of God") and magician, showman and pub owner Basilio Calafati ("Calafati's Carousel")…
Saturday, June 24th, from 18.00
𝐍𝐨𝐞́ 𝐂𝐥𝐞𝐫𝐜 – accordion
𝐂𝐥𝐞́𝐦𝐞𝐧𝐭 𝐃𝐚𝐥𝐝𝐨𝐬𝐬𝐨 – double bass
𝐄𝐥𝐢𝐞 𝐌𝐚𝐫𝐭𝐢𝐧-𝐂𝐡𝐚𝐫𝐫𝐢𝐞̀𝐫𝐞 – drums
Their first album "Secret Place", released on the NoMadMusic label, features landscapes that are sometimes urban, sometimes wild, speaks of encounters and invites us to travel. It is a virtuoso and highly modern combination of three instruments rarely brought together.
"The jazz magician can create an intimate bond with his audience through the senses, and for his first album, the Noé Clerc Trio has chosen the dreamy way. From the outset, the young trio moves us by revealing its musical intimacy and its various inspirations in "Secret Place". (…) The ear happily wanders through this secret garden, a painting in which the three young musicians show great maturity in the finesse of their lines and the choice of colours. The palette is daring: blues, contemporary jazz, impressionist and traditional music."
(Album Revelation, Jazz Magazine, Walden Gauthier)
𝑇ℎ𝑖𝑠 𝑐𝑜𝑛𝑐𝑒𝑟𝑡 𝑖𝑠 𝑏𝑒𝑖𝑛𝑔 𝑝𝑒𝑟𝑓𝑜𝑟𝑚𝑒𝑑 𝑎𝑠 𝑝𝑎𝑟𝑡 𝑜𝑓 𝑡ℎ𝑒 "𝐽𝑎𝑧𝑧 𝑀𝑖𝑔𝑟𝑎𝑡𝑖𝑜𝑛" 𝑠𝑒𝑟𝑖𝑒𝑠 𝑒𝑠𝑡𝑎𝑏𝑙𝑖𝑠ℎ𝑒𝑑 𝑏𝑦 𝐴𝐽𝐶 𝑡𝑜 𝑠𝑢𝑝𝑝𝑜𝑟𝑡 𝑡ℎ𝑒 𝑝𝑟𝑜𝑓𝑒𝑠𝑠𝑖𝑜𝑛𝑎𝑙 𝑑𝑒𝑣𝑒𝑙𝑜𝑝𝑚𝑒𝑛𝑡 𝑜𝑓 𝑛𝑒𝑤 𝑗𝑎𝑧𝑧 𝑔𝑟𝑜𝑢𝑝𝑠.
The concept album is the synthesis of Paolo's twenty-five years of living together with his orchestral guitar, pushed to the limit of expressive timbral potential, but the narration is weaved by the nasal voice with a Sardinian-Iberian flavour, which relies on the quatrains of Gallura and Logudorese poets of the 1700s and 1800s.
Rade's music emerges like a wreck loaded with memory, wrapped in blinding light, the long sea is a silver surface, the Sardinian chant blends and confuses with sonorities that evoke a secular prayer.
Rade is the must of the last century, forgotten in the galley, aged, which leaves the tannin in the glass glasses, to abandon oneself to the memory of light visions embalmed by the saltiness. The light of the sea enters our homes, with the explosive force of a Mediterranean avant-garde transmitted orally by a joyful Charon who, imagining a navigation that knows no borders, expresses himself in a thousand languages, uses them for a moment and then throws them away.
Sunday, June 25th, from 18.00
𝐂𝐨𝐫𝐢𝐧𝐚 𝐒𝐢̂𝐫𝐠𝐡𝐢 – 𝐒𝐨𝐫𝐢𝐧 𝐑𝐨𝐦𝐚𝐧𝐞𝐬𝐜𝐮 ~ "Danube˝
𝐍𝐢𝐤𝐨𝐥 𝐁𝐨́𝐤𝐨𝐯𝐚́ 𝐓𝐫𝐢𝐨 (Czech Republic)
𝐍𝐢𝐤𝐨𝐥 𝐁𝐨́𝐤𝐨𝐯𝐚́ – piano
𝐌𝐚𝐫𝐭𝐢𝐧 𝐊𝐨𝐜𝐢𝐚́𝐧 – double bass
𝐌𝐢𝐜𝐡𝐚ł 𝐖𝐢𝐞𝐫𝐳𝐠𝐨𝐧́ – drums
Pianist and composer Nikol Bóková is one of the greatest discoveries of the Czech music scene. In addition to performing classical repertoire, she devotes herself intensively to her own creative work that transcends genre boundaries and is appreciated by classical music listeners, jazz audiences, and music critics, as evidenced by numerous awards. In 202, she received the Czech Music Academy's Anděl Award in the Jazz category for her album Prometheus. In the same year, she founded her own music label, Soleil et Pluie. Both albums released by Soleil et Pluie so far, Elements and Naked Pieces, won the award Jantar for best albums of the year 2022 in the category of popular music. Nikol regularly collaborates with exceptional personalities from the jazz and classical music scene and has already released five albums of her own compositions since 2019.
Concert organizat cu sprijinul Palác Akropolis.
JAZZUNIQUE is a festival 𝑖𝑛𝑖𝑡𝑖𝑎𝑡𝑒𝑑 EUNIC-Romania (𝐸𝑢𝑟𝑜𝑝𝑒𝑎𝑛 𝑈𝑛𝑖𝑜𝑛 𝑜𝑓 𝑁𝑎𝑡𝑖𝑜𝑛𝑎𝑙 𝐼𝑛𝑠𝑡𝑖𝑡𝑢𝑡𝑒𝑠 𝑓𝑜𝑟 𝐶𝑢𝑙𝑡𝑢𝑟𝑒) 𝑖𝑛 𝑝𝑎𝑟𝑡𝑛𝑒𝑟𝑠ℎ𝑖𝑝 𝑤𝑖𝑡ℎ 𝐺𝑟𝑒𝑒𝑛 𝐻𝑜𝑢𝑟𝑠 outdoor, in the Green Hours' garden.
Partners:
𝐈𝐧𝐬𝐭𝐢𝐭𝐮𝐭𝐨 𝐂𝐞𝐫𝐯𝐚𝐧𝐭𝐞𝐬 𝐝𝐞 𝐁𝐮𝐜𝐚𝐫𝐞𝐬𝐭, 𝐎̈𝐬𝐭𝐞𝐫𝐫𝐞𝐢𝐜𝐡𝐢𝐬𝐜𝐡𝐞𝐬 𝐊𝐮𝐥𝐭𝐮𝐫𝐟𝐨𝐫𝐮𝐦 𝐁𝐮𝐤𝐚𝐫𝐞𝐬𝐭, 𝐈𝐧𝐬𝐭𝐢𝐭𝐮𝐭 𝐅𝐫𝐚𝐧𝐜̧𝐚𝐢𝐬 𝐝𝐞 𝐁𝐮𝐜𝐚𝐫𝐞𝐬𝐭, 𝐈𝐬𝐭𝐢𝐭𝐮𝐭𝐨 𝐈𝐭𝐚𝐥𝐢𝐚𝐧𝐨 𝐝𝐢 𝐂𝐮𝐥𝐭𝐮𝐫𝐚 𝐝𝐢 𝐁𝐮𝐜𝐚𝐫𝐞𝐬𝐭, 𝐂̌𝐞𝐬𝐤𝐞́ 𝐂𝐞𝐧𝐭𝐫𝐮𝐦 𝐁𝐮𝐤𝐮𝐫𝐞𝐬̌𝐭̌,𝐈𝐧𝐬𝐭𝐢𝐭𝐮𝐭𝐮𝐥 𝐂𝐮𝐥𝐭𝐮𝐫𝐚𝐥 𝐑𝐨𝐦â𝐧, 𝐆𝐨𝐞𝐭𝐡𝐞 𝐈𝐧𝐬𝐭𝐢𝐭𝐮𝐭 𝐁𝐮𝐤𝐚𝐫𝐞𝐬𝐭.
Artistic Director: 𝐑𝐨𝐳𝐚𝐧𝐚 𝐌𝐢𝐡𝐚𝐥𝐚𝐜𝐡𝐞
PR: 𝐆𝐚𝐛𝐫𝐢𝐞𝐥𝐚 𝐃𝐫𝐚̆𝐠𝐚𝐧
Sound: 𝐑𝐚̆𝐳𝐯𝐚𝐧 𝐃𝐢𝐦𝐚