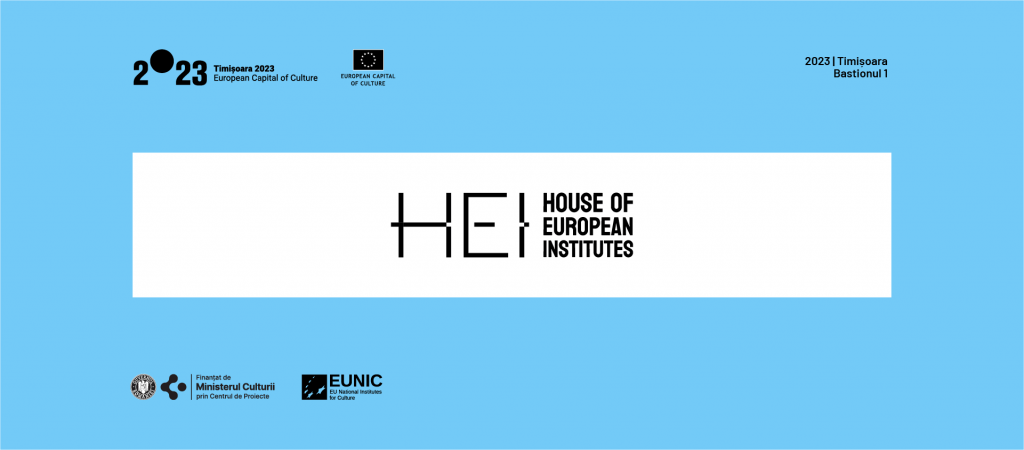 Centrul multicultural HEI – House of European Institutes completează dimensiunea europeană în "Timișoara – Capitală Europeană a Culturii 2023" printr-un program curatorial de artă implicată social ce reflectă teme precum diversitatea, sustenabilitatea, egalitatea, drepturile omului și va desfășura expoziții, ateliere, spectacole multimedia, discuții și programe pentru dezvoltarea activității operatorilor culturali locali.
Accesul la evenimentele publice HEI – House of European Institutes va fi gratuit și deschis tuturor, vizitatori și membri ai comunităților orașului, indiferent de vârstă, abilități, credințe, stil de viață!
Program:
Luni-Marți: închis
Miercuri-Vineri: 16.00-20.00
Sâmbătă-Duminică: 11.00-20.00
HEI – House of European Institutes este un proiect coordonat de Goethe-Institut București și Centrul Cultural German din Timișoara, alături de Forumul Cultural Austriac, Ambasada Republicii Bulgaria în România, Centrul Ceh București, Institutul Francez din România, Ambasada Georgiei din România, Fundația Culturală Greacă, Institutul Italian de Cultură, British Council România, Ambasada Regatului Țărilor de Jos din partea SICA, Institutul Polonez din București, Institutul Camões, Institutul Cultural Român, Ambasada Spaniei, Institutul Cervantes, Ambasada Suediei în București, Institutul Turc "Yunus Emre" și Institutul Liszt – Centrul Cultural Maghiar București.
Proiectul face parte din Programul cultural național "Timișoara – Capitală Europeană a Culturii în anul 2023" și este finanțat prin programul European Echoes, derulat de Centrul de Proiecte al Municipiului Timișoara, cu sume alocate de la bugetul de stat, prin bugetul Ministerului Culturii. Este organizat în parteneriat cu Municipiul Timișoara prin Centrul de Proiecte.