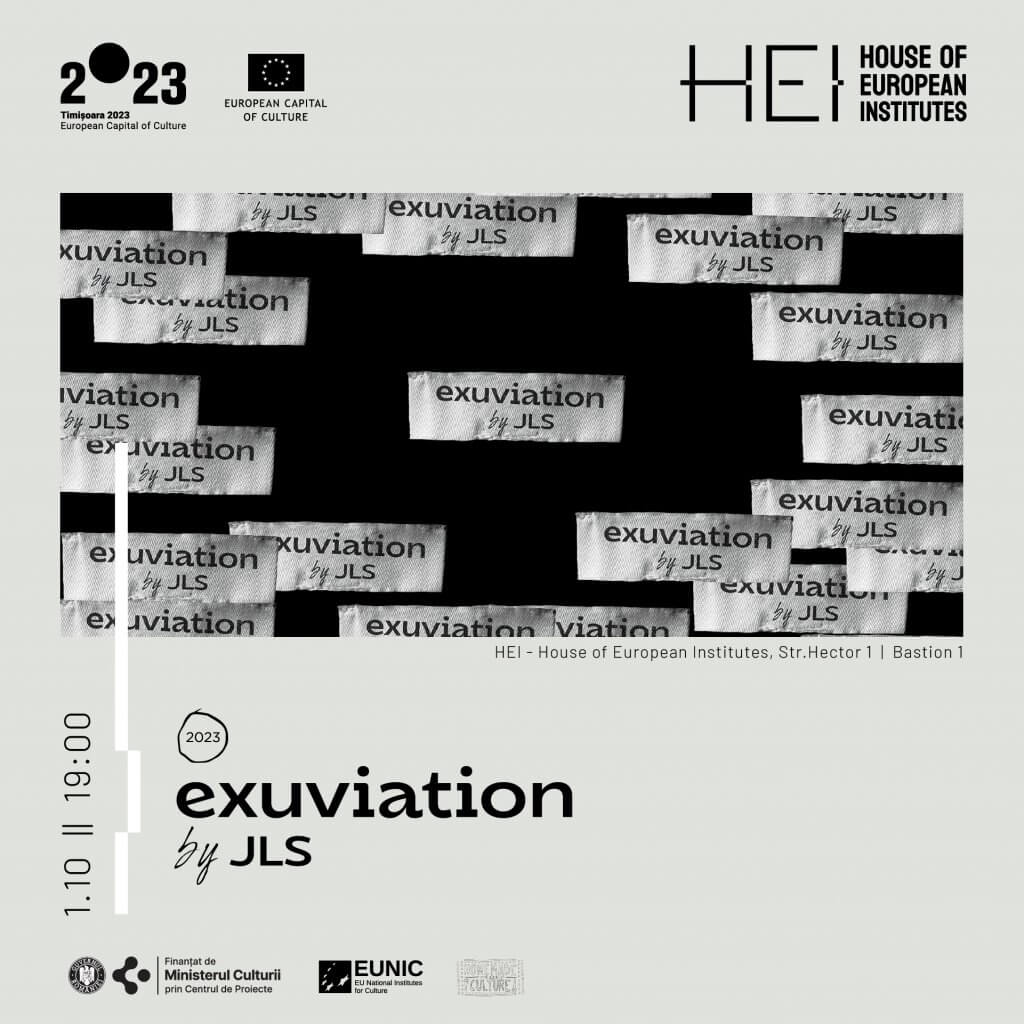 Prin Exuviation, Jean-Lorin Sterian creează o frescă vivantă a vieții sale, în care nu se mai face distincția între vizitatori și exponate.
"Există perioade ale vieții care sunt asociate cu o anumită haină sau pereche de pantofi. De când am început Exuviation, știu unde se află marea majoritate a hainelor vechi pentru că le-am lăsat în mod conștient în locuri de importanță sentimentală. În 2021, după ce am stat o lună la rezidențiat de artă la Pristina, am părăsit apartamentul în care locuiam fără să realizez că nu am mai lăsat în urmă nicio piesă vestimentară. Am înțeles atunci, proiectul s-a terminat. Unele călătorii se termină chiar înainte de a-ți da seama." ( Jean-Lorin Sterian)
Jean-Lorin Sterian este cercetător, scriitor, artist și performer, stabilit în prezent în București. Este licențiat în antropologie la Facultatea SNSPA (2009), are un master în "Societate, Multimedia, Spectacol" (CESI, 2015) și un doctorat în științe sociale, a inventat cultura "de casă" pe care o cercetează și în prezent.
În 2008 a deschis teatrul lorgean, primul teatru de sufragerie din România, iar din 2014 gestionează "HomeFest", un festival de artele spectacolului desfășurat doar în case și apartamente. A publicat mai multe cărți de ficțiune și concertează în mod regulat cu formația sa artistică pj.lo & the accidentals… Din 2009 este interesat de performance și artă vizuală.
A lucrat ca performer pentru două proiecte la "An Immaterial Retrospective of the Venice Biennale" (2013) și "The Sinthome Score" (2015, Dora Garcia), când a realizat și propriul proiect artistic independent, "The parasite socks project", ca o declarație împotriva bienalei. A creat spectacole de performance precum "We Need To Talk About lorgean" (2014), "Strip-tease" (2013, cu Alice Pons) și "Zugzwang" (2012). În 2016-2017 a fost bursier la Schloss Akademie Solitude.
Proiectul face parte din Programul cultural național "Timișoara – Capitală Europeană a Culturii în anul 2023" și este finanțat prin programul European Echoes, derulat de Centrul de Proiecte al Municipiului Timișoara, cu sume alocate de la bugetul de stat, prin bugetul Ministerului Culturii. Este organizat în parteneriat cu Municipiul Timișoara prin Centrul de Proiecte.