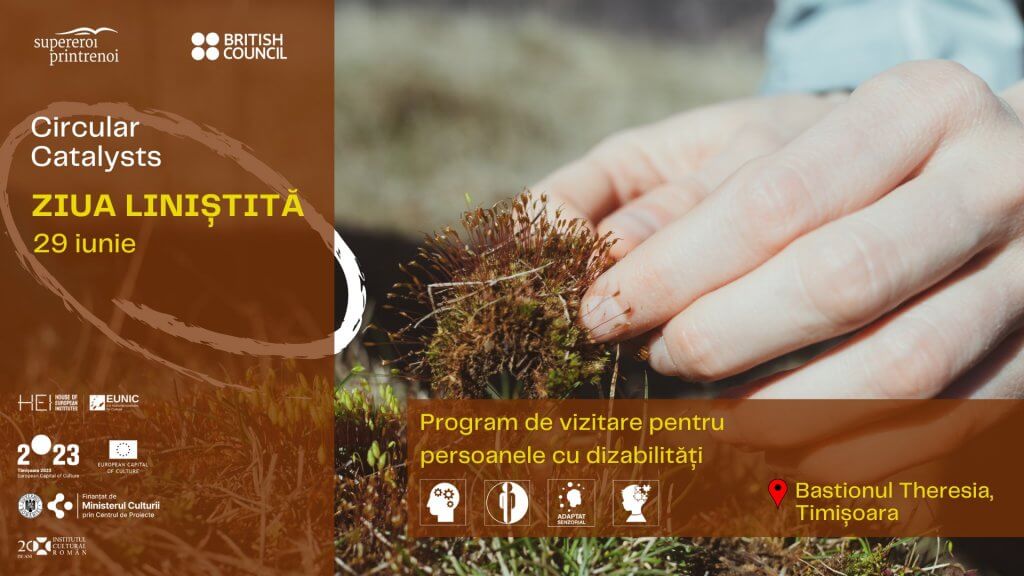 Asociația Supereroi printre noi și British Council Romania invită persoanele cu dizabilități, persoanele neurodiverse, seniorii și părinții obosiți să viziteze expoziția Circular Catalyst, la HEI – House of European Institutes, în bastionul Theresia din Timișoara.
În "Ziua liniștită" puteți vizita expoziția fără a fi deranjați de aglomerația din zilele obișnuite de vizitare. În această zi, accesul publicului larg va fi limitat (nu restricționat), prioritate având persoanele menționate anterior.
O vizită în liniște, pe îndelete și cu explicații simplificate.
Aceasta este o expoziție în care veți vedea fotografii și obiecte.
Puteți atinge unele dintre aceste obiecte.
În aceste fotografii sunt persoane din Marea Britanie și din România.
Ei sunt artiști, designeri, meșteșugari.
Artiștii din Marea Britanie au locuit o vreme în România, la țară. Acest lucru se numește rezidență creativă.
Fotografiile din expoziție sunt din timpul acestor rezidențe creative.
În expoziție veți vedea fotografii făcute de fotografa Ioana Cârlig.
CE ÎNSEAMNĂ "Ziua Liniștită" ?
Accesul publicului larg este limitat;
Sunetele din expoziție sunt date încet;
Explicații ușor de înțeles și tururi ghidate,;
Textele de sală sunt simplificate, în format text și audio.
FACILITĂȚI:
Spațiul este accesibil scaunelor rulante;
Galeria în care ne aflăm nu are toaletă adaptată, dar există una în Galeria vecină, Bastion 3.
UNDE: Bastionul Theresia – Galeria 1, Timișoara
CÂND: Joi, 29 iunie 2023, între orele 16- 20
---
Acest eveniment face parte din programul de implicare a comunității și creștere a accesului la cultură din cadrul expoziției Circular Catalysts, organizată de British Council, în parteneriat cu Institutul Cultural Român și EUNIC România, deschisă în Timișoara între 21 și 9 iulie, la HEI – House of European Institutes. Circular Catalysts face parte din programul european Circular Cultures/Making Matters al British Council. Anul acesta, Circular Catalysts propune explorarea intersecțiilor dintre rural și urban, dar și rolul materialelor și meșteșugurilor tradiționale în contexte contemporane sociale, economice și de mediu.
Proiectul face parte din Programul cultural național "Timișoara – Capitală Europeană a Culturii în anul 2023" și este finanțat prin programul European Echoes, derulat de Centrul de Proiecte al Municipiului Timișoara, cu sume alocate de la bugetul de stat, prin bugetul Ministerului Culturii.