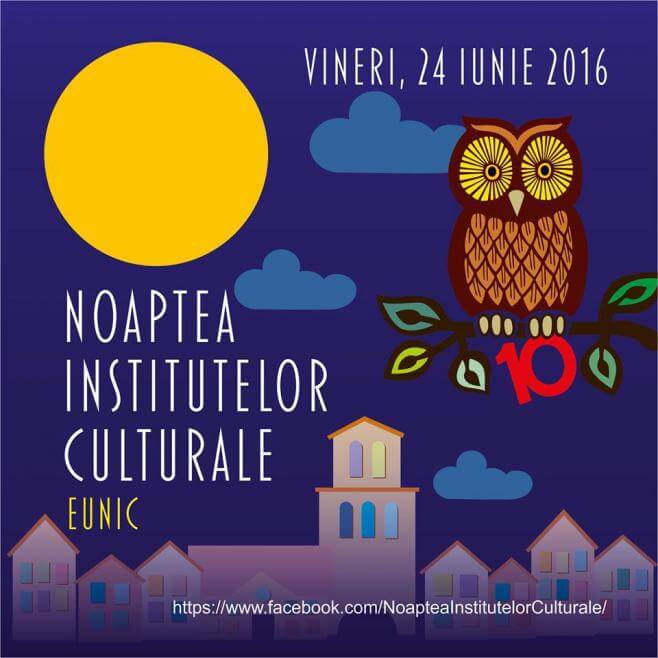 Friday, June 24, 2016, 15 cultural institutions in Bucharest will organize under the aegis of EUNIC Bucharest, the 10th edition of the Night of Cultural Institutes. British Council, Czech Centre, Turkish Cultural Center "Yunus Emre", Delegation Wallonie-Bruxelles, Austrian Cultural Forum, the Greek Cultural Foundation, Goethe-Institut, Balassi Intézet – Hungarian Institute in Bucharest, Instituto Camões of Cooperation and Portuguese Language, Instituto Cervantes of Bucarest, Romanian Cultural Institute, French Institute, Italian Cultural Institute, the Polish Institute, joined by European Public Space, propose a dense program that will start at noon and lasts until dawn.
In the year that marks the 400th anniversary of the death of William Shakespeare and Miguel de Cervantes, the program includes a theater spectacle of sonnets, screenings, readings and discussion dedicated to the great British playwright, exhibition of comics and illustration from a play written by Cervantes and a performance-based reading excerpts from "entremeses" of the beloved Spanish writer.
With a program of concerts – from violin and flute or oboe, clarinet, horn, bassoon, percussion, the bandoneon concert in minority languages ​​from the Polish region of Podlasie, Greek music, French music interpreted atop a wedding dress, jazz, jam session live, festa Portuguesa, silent disco and post-techno party, the 10th edition of the Night of Cultural Institutes offers a musical journey for all tastes.
The night of June 24 also brings several exhibition projects: a comic dialogue, based on improvisation, a graffiti performance, a sculpture exhibition, comics and illustration exhibition "En Miguel Cervantes. Panorama wonders" exhibition of gathered objects "B L A N K", architecture exhibition, product design, fashion and graphic design "Romanian Design Week Classics", a clothing exhibition named "Traditional Greek Costumes, the exhibition "The most beautiful books", a photo exhibitions "Azulejo: Story of tiles", "Romy Schneider" or "Immota Manet" (showing in black and white photographs the consequences of the earthquake in L'Aguila).
The film offer is also interesting: Jonas Carpignano's Mediterranea, one of three finalist in competition for the LUX Prize 2015 awarded by the European Parliament; Prospero's Books directed by Peter Greenaway; Romanian Short Waves 9: Romanian short films presented at Cannes 2016; Short from Spain, short films selected by the Institute of Cinematography and Visual Arts in Spain; Ernst Marishka's Sissi I (with Romy Schneider in the role of Empress Elisabeth of Austria); La Passante du Sans-Souci by Jacques Rouffio in a recent cinematic interpretation of the famous Franco-German actresses, or Whisper me if I forget by Cagan Irmak.
Language courses, games and debates intercultural on diversity and stereotypes, theater performances and workshops for children and adults – including the traditional Turkish art of drawing on water, ebru, or the one where children learn to build their little house for birds using papier-mâché technique – will complete the multidisciplinary range on June 24. And we also have culinar surprises at the Night of Cultural Institutes, the cultural marathon participants are invited to taste Turkish and Polish dishes and try the famous Hungarian goulash or traditional spaghetti, prepared live.
The program will take place between the hours 12 00–02: 30 in 12 cultural spaces in Bucharest: ARCUB – Gabroveni, British Council, Czech Centre, Turkish Cultural Center "Yunus Emre", Green Hours, Goethe-Institut, Balassi Institute – Hungarian Institute in Bucharest, Cervantes Institute, Romanian Cultural Institute, French Institute, Italian Institute of Culture and European Public Space, which will host over 50 events proposed by 15 cultural institutions.
A project organized by EUNIC Bucharest, with the support of the European Commission Representation in Romania.
Public access is free.
www.facebook.com/events/1696702190550446
https://www.facebook.com/EunicRomania
Find the full program and map the spaces that host events in the leaflet attached. NIC10 application can be downloaded from the Google Play Store.