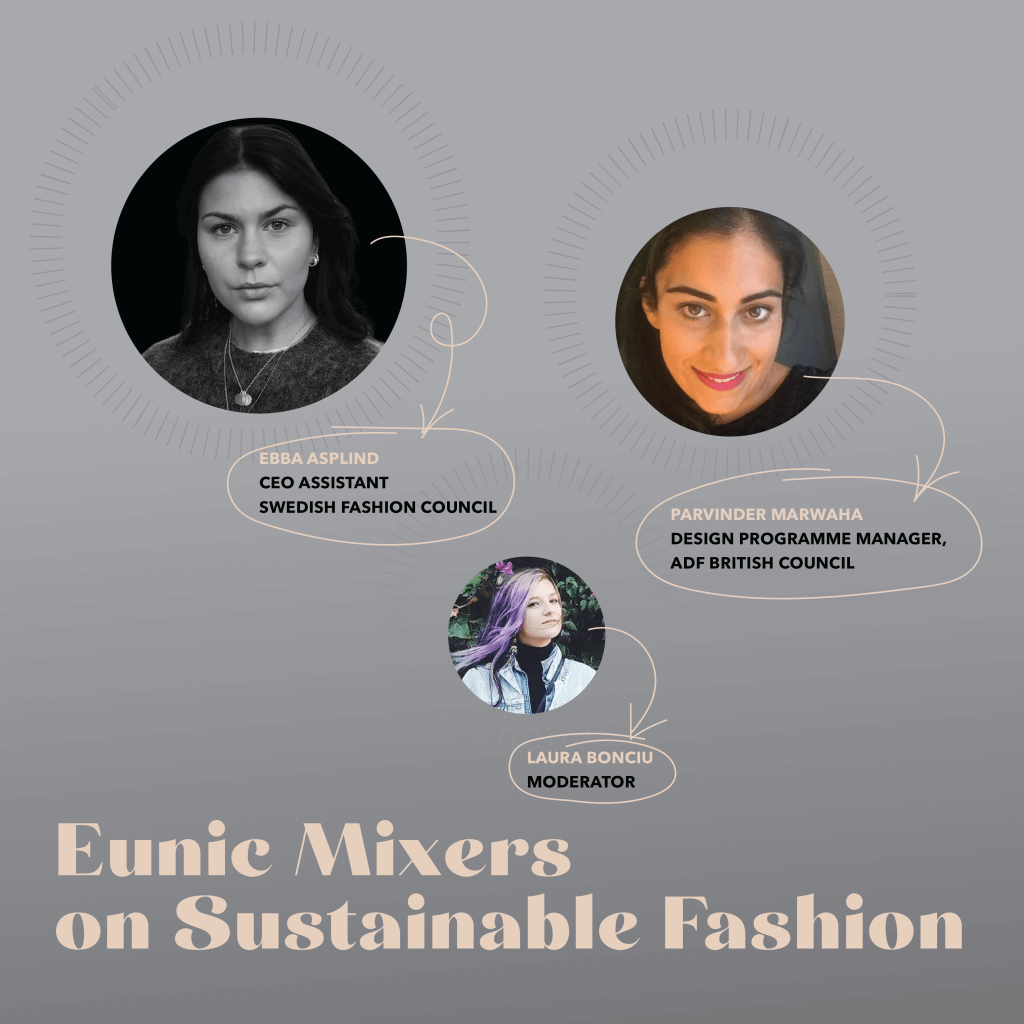 Join us on the 27th May, from 19.00 hours (RO time) for our new Eunic Mixers event, live on our Facebook page.
We continue our series of online debates on Sustainable Europe with a conversation on Sustainable Fashion, exploring the impact of the fashion industry on our planet along with new creative practices that can lead us to a more sustainable future in fashion.
Fashion is an industry that undoubtedly impacts the environment – from pollution to deforestation to landfills piling up with clothes, Fast Fashion and the rise of consumerism have transformed global purchasing patterns and given rise to behaviours and practices that pose a threat to our planet. And for consumers, it's still difficult to find information about the working conditions and environmental impacts behind what they buy.
These issues underline the need for a drastic rethink of the whole system – and sustainable fashion is part of the solution.
'Sustainable' fashion refers to garments that have been made in a way that is mindful of the great environmental impact of the fashion industry, taking into account:
⚠️ Chemical usage (fertilisers and pesticides used in the production of raw materials like cotton)
🔋Energy emissions (high use of energy in the production of synthetic fabrics for example, as well as in the washing, drying and ironing of our clothes)
💧Water consumption and contamination (in production and washing)
🗑️ Waste generation (the amounts of textiles that are incinerated or sent to landfill are enormous)
In this EUNIC Mixers, we will discuss Sustainable Fashion from an inter-disciplinary perspective, exploring new sustainable processes and systems in fashion and design, along with circularity as a tool to devise sustainable models for the design and fashion community.
For this EUNIC Mixers, we have invited two specialists:
✨Parvinder Marwaha, Design Programme Manager, Architecture Design Fashion, British Council
✨Ebba Asplind, CEO Assistant at Swedish Fashion Council
EUNIC MIXERS is a series of live, online discussions about how the cultural sector has adapted to the changes brought about by the pandemic. The discussions involve guests from European countries – representatives of the cultural institutes in the EUNIC Romania network, as well as Romanian cultural practitioners.

Event organised by EUNIC Romania