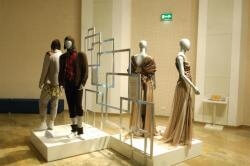 A unique European-Armenian fashion design exhibition was hosted in Bucharest from 7 to 14 June, 2012 in the National Library of Romania. The  exhibition showcased the collaboration between five European designers and five Armenian designers participating in the "Fashion Road: Dialogue across the Borders" project.
The opening of the exhibition took place on June 7th, at 19.00, with the participation of the fashion designers Andra Cliţan (Romania) and Aram Nikolyan (Armenia), the curator Tony Charalambous (Great Britain), Tania Radu, vice-president of the Romanian Cultural Institute, Arevik Saribekyan, director of British Council Armenia.
The exhibition will be opened until June 24th, from Monday to Friday, from 9.00 to 19.00. Free access to the exhibition.
Friday, June 8th, from 10.00, the young fashion designers had the opportunity to learn new things about how to include traditional elements in contemporary fashion design in a master class held by the designers Andra Cliţan and Aram Nikolyan, Ioana Avram (National University of Arts Bucharest), coordinator of the creative activity of the two designers during their residency in Romania (July 2011) and curator Tony Charalambous.
Fashion Road is a unique expression of intercultural dialogue and collaboration, made possible by ten gifted fashion designers: five from Armenia and one from each of the Czech Republic, Denmark, Germany, Romania and the United Kingdom. The project celebrates the diversity and harmony of cultures, contextualised in the garments of the designers, and beautifully visualised through textile, colour, cultural elements and the styles of the different countries. (Tony Charalambous, curator)
The "Fashion Road: Dialogue across Borders" collection, including elements of the cultural heritage of Armenia and the European countries, was presented for the first time in Armenia (Yerevan and the other three regions, from February to April 2012), and by the end of 2012 the exhibition will be presented in Germany (July), Denmark (August), UK (September) and the Czech Republic (October).
Launched in 2010, "Fashion Road: Dialogue across Borders" brought together 10 fashion designers from Europe and Armenia:  Andra Cliţan (Romania) – Aram Nikolyan (Armenia),  Pavel Ivancic (Czech Republic) – Kristine Avetisyan (Armenia),  Geannine Pollazzon (United Kingdom) – Lusine Kostanyan  (Armenia),  Melanie Freier (Germany) – Gayane Soghomonyan (Armenia), Ida Gro Christiansen (Denmark) – Ani Iskandaryan (Armenia), which worked in pairs for developing the project collection.
Coordinated locally by the Romanian Cultural Institute, "Fashion Road: Dialogue across Borders" is a EUNIC (European Union National Institutes for Culture) project organised by British Council, the Czech Centres, Goethe-Institut, the Danish Cultural Institute and RCI, in partnership with the Armenian Fashion Council. The project received the support of the European Union through the Culture Programme
(2007-2013).