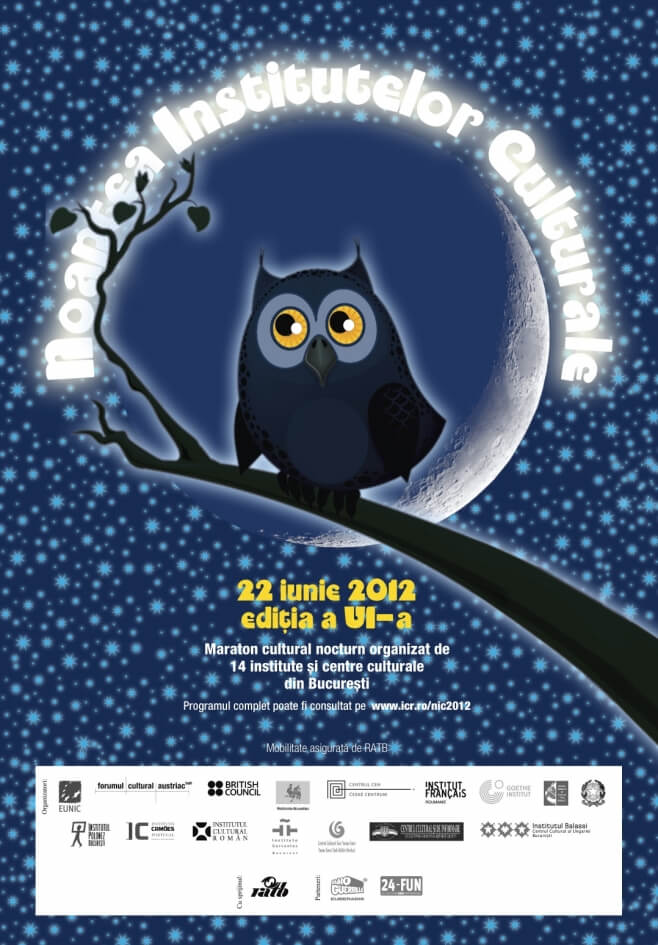 Open Night of the Institutes, one of the most popular cultural events in Bucharest, has reached its sixth edition on June 22, 2012. Since 2007, in June, we have been celebrating the cultural institutes in Bucharest, that on this occasion open their doors wider than they usually do, offering to culture lover audiences a sleepless night full of carefully prepared events and surprises. Since 2009, the Open Night of the Institutes has been placed under the EUNIC umbrella, currently being one of the most successful projects organised by the EUNIC in Romania cluster.
During the Open Night of the Institutes 2012, for more than 16 hours, the public enjoyed an extensive programme of  unique cultural events: film screenings, photo exhibitions, concerts for all tastes (guitar, piano and jazz, as well as fado, flamenco, electro and pop culture infusion), different workshops (calligraphy, glass modeling and origami), board games and sports (basketball, hockey, archery, cultural triathlon), dance, book launches and, of course, delicious gastronomic surprises from different countries.
This year's edition was organised by 14 cultural centres and institutes members of EUNIC in Romania cluster: British Council, Czech Centre, Balassi Institute – Hungarian Cultural Centre, Wallonie-Bruxelles Delegation, Austrian Cultural Forum, Camões Institute /Embassy of Portugal in Romania, Cervantes Institute, Romanian Cultural Institute, Goethe-Institut, French Institute – the coordinator of this year's edition, "Vito Grasso" Italian Cultural Institute, Polish Institute, Cultural and Information Centre of Ukraine and "Yunus Emre" Turkish Cultural Center – participating for the first time at this EUNIC event.
The Open Night of the Institutes has grown with every passing edition, including each year more events, visitors and co-organisers, being one of the most popular and best known events in Bucharest.
Photo gallery to be found here. Full programme in the brochure.