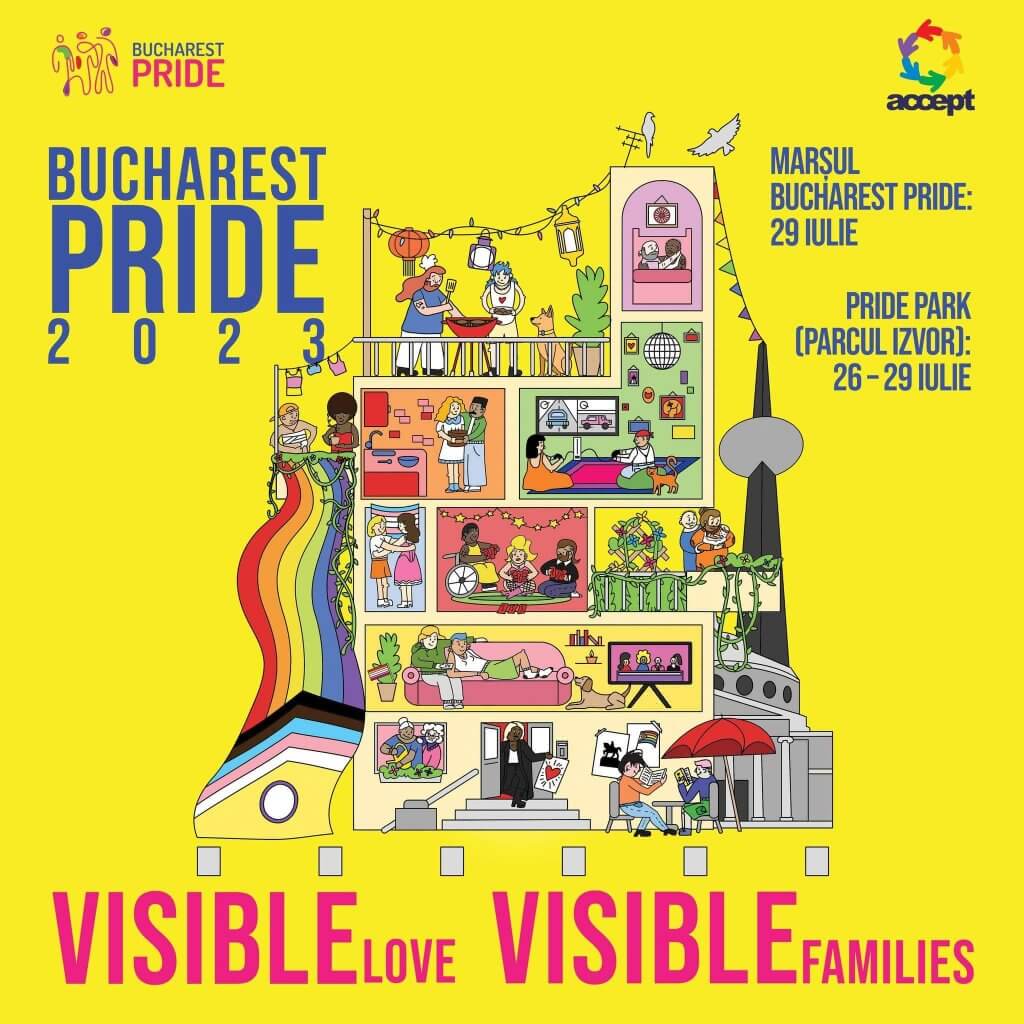 Declarație comună cu ocazia Bucharest Pride 2023
București, 27 iulie 2023
Noi, misiunile diplomatice și organizațiile internaționale din București semnatare ale acestei declarații, ne exprimăm sprijinul pentru Bucharest Pride 2023. Aceasta este cea de-a 18-a ediție a acestui eveniment anual care sărbătorește diversitatea și demnitatea comunității LGBTIQ+ din România.
Bucharest Pride și toate evenimentele Pride din România sunt ocazii importante de a susține drepturile și incluziunea LGBTIQ+. Felicităm organizatorii, voluntarii și participanții pentru munca și eforturile lor în vederea egalității în drepturi. Ne reafirmăm angajamentul de a respecta, promova și proteja principiile egalității, nediscriminării și drepturilor omului pentru toate persoanele, indiferent de orientarea lor sexuală, identitatea de gen sau caracteristicile sexuale.
Susținem ferm comunitatea LGBTIQ+ din România în demersurile sale pentru egalitatea în drepturi, în conformitate cu legislația internațională a drepturilor omului și principiul drepturilor universale ale omului. Curtea Europeană a Drepturilor Omului a formulat un cadru clar pentru protejarea drepturilor persoanelor LGBTIQ+. Curtea a stabilit obligativitatea asigurării egalității în cadrul legislației naționale, cum ar fi instituirea unor mecanisme eficiente de răspuns la infracțiunile motivate de ură, protecția juridică pentru familiile de același sex și o procedură legală transparentă și accesibilă de recunoaștere a genului pentru persoanele transgender.
În acest context, încurajăm autoritățile române să abordeze orice lacune legislative actuale cu scopul respectării depline a drepturilor LGBTIQ+.
Egalitatea, diversitatea, nediscriminarea și respectul pentru drepturile universale ale omului fac parte din valorile noastre fundamentale și trebuie să acționăm pentru a apăra aceste valori, atât în țările noastre, cât și la nivel global. Realizăm că este nevoie de mai multe eforturi pentru ca persoanele LGBTIQ+ să se bucure de egalitate deplină în drepturi.
Vom continua să lucrăm împreună cu autoritățile române și cu societatea civilă pentru a ne asigura că toate persoanele sunt tratate cu demnitate și respect.
Misiuni diplomatice și organizații internaționale din București semnatare, enumerate în ordine alfabetică:
Argentina; Austria; Belgia; Canada; Cehia; Cipru; Chile; Croaţia; Danemarca; Elveţia; Estonia; Finlanda; Franţa; Germania; Grecia; Irlanda; Israel; Italia; Lituania; Mexic; Norvegia; Olanda; Portugalia; Regatul Unit al Marii Britanii; Slovenia; Spania; Statele Unite ale Americii; Suedia; Înaltul Comisariat al ONU pentru Refugiați (UNHCR), România; Organizația Internațională pentru Migrație (IOM), România; Reprezentanța Comisiei Europene în România
————————————————————–
Joint Statement on the Occasion of Bucharest Pride 2023
Bucharest, 27 July 2023
We, the undersigned diplomatic missions and international organisations in Bucharest, express our support for Bucharest Pride 2023. This is the 18th edition of this annual event celebrating the diversity and dignity of the LGBTIQ+ community in Romania.
Bucharest Pride, and all Pride events across Romania, are important occasions to stand up for LGBTIQ+ rights and inclusion. We commend the organisers, volunteers and participants for their work and commitment to achieve equality.
We reaffirm our commitment to respecting, promoting and protecting the principles of equality, non-discrimination, and human rights for all individuals, regardless of their sexual orientation, gender identity or sex characteristics.
We firmly support the LGBTIQ+ community in Romania in its pursuit of equal rights, in accordance with international human rights law and the principle of universal human rights. The European Court of Human Rights has established a strong framework for protecting the rights of LGBTIQ+ people. The Court has set out obligations to ensure equality under national laws, such as the establishment of effective hate crime response mechanisms, legal protection for same-sex families and a transparent, consistent, and accessible legal gender recognition procedure for transgender people.
In this context, we encourage the Romanian authorities to address any current legal gaps for the full realisation of LGBTIQ+ rights.
Equality, diversity, non-discrimination and respect for universal human rights are part of our core values, and we must act to defend these values, both at home and globally. We recognise that more needs to be done to achieve full equality for LGBTIQ+ persons.
We will continue to work with Romanian authorities and civil society to ensure that all individuals are treated with dignity and respect.
Signed by the following diplomatic missions and international organisations in Bucharest, listed in alphabetical order:
Argentina; Austria; Belgium; Canada; Chile; Croatia; Cyprus; Czechia; Denmark; Estonia; Finland; France; Germany; Greece; Ireland; Israel; Italy; Lithuania; Mexico; Netherlands; Norway; Portugal; Slovenia; Spain; Sweden; Switzerland; United Kingdom; United States of America; European Commission Representation in Romania; International Organization for Migration (IOM), Romania; UNHCR Representation in Romania