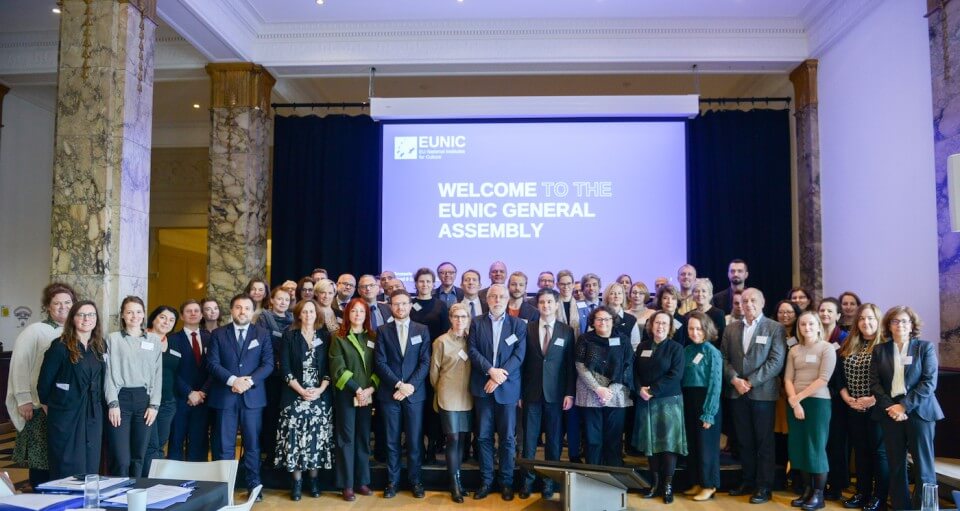 EUNIC – European Union National Institutes for Culture – is the European network of organisations engaging in cultural relations. EUNIC's charter stand out clear: "Through culture, we build trust and understanding between the people of Europe and the wider world".
EUNIC Romania was established in 2008 and, since, has developed into a network of 18 members and develops annualy programs and events that support EUNIC's objectives. In 2023, EUNIC Romania has joined Timișoara 2023 – European Cultural Capital through the project HEI – House of European Institutes in Timișoara. HEI is located in Bastion Theresia, Gallery 1, a space provided by the Municipality of Timișoara, through Centrul de Proiecte Timișoara. The project is funded by the European Echoes programme, run by the Timisoara City Council Project Centre, with funds allocated from the state budget, through the Ministry of Culture budget. It is organized in partnership with the Municipality of Timișoara through the Project Centre.
Between 6th and 7th November, HEI – House of European Institutes hosts EUNIC Focus Meeting and seminar Central & South-East Europe. Members of the network will explore its recent developments and opportunities and will look at ways of developing together and strengthen the EUNIC clusters in the region. Relevant topics, expertise and perspectives in the region will be addressed, in the frame of exploring together concrete opportunities to raise these perspectives in EUNIC's wider work.
The assembly will also feature a panel conversation with Dominic Frits, the mayor of Timișoara, Alexandra Rigler, Timișoara 2023, CEO Center for Projects and EUNIC Romania.
The participants will explore the recent collective partnerships of EUNIC Romania with Timișoara European Capital of Culture, both in off-site visits to partner spaces and in the wider work of the European Capitals of Culture (ECoC).
A high-level roadmap for the clusters will be informed by the meeting discussions, further to a evaluation of current strengths and weaknesses of clusters, that will be presented and discussed at the next EUNIC General Assembly. To the list of objectives of this meeting, the members strive to refresh and recalibrate what success looks like in EUNIC clusters, while respecting the diversity of membership and geographical spread of the cluster network.