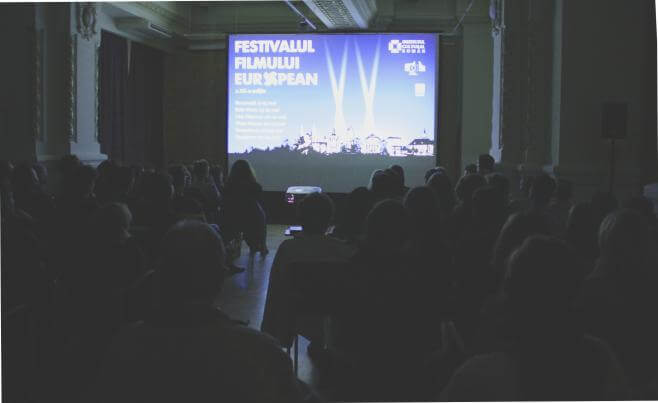 European Film Festival takes place between 5-29 of May 2016. The Festival is organized by the Romanian Cultural Institute, with the support of the Representation of the European Commission in Romania, under EUNIC Bucharest's aegis.
The screenings is hosted by six cities in Romania. Four of them are competing for the title of 2021 European Cultural Capital: Bucharest, Baia Mare, Cluj, Timisoara. Other two cities, Hunedoara and Tîrgu Mureș, are traditional partners of the Festival.
The European Film Festival is a project initiated in 1996, by the Delegation of the European Commission in Romania, in order to celebrate Europe's Day, on 9th of May. After 2007, when Romania joined the European Union, the Festival was taken over by the Romanian Cultural Institute, which organized it every year since then, the 2016 edition of the Festival being a celebratory one, the 20th.
The Festival offers its audience all kind of films, as European Union's diversity is illustrated at its best by the multicultural, savory and whimsical European cinematography. The selection was performed by the organizers with the assistance of the Embassies of EU Member States, with the Cultural Institutes and Centers, and supplemented with valuable contributions from distributors of European films, Independența Film and Transilvania Film.
This year's selection is the richest: 85 films, originating from 27 countries. This year's edition includes also 4 thematic sections: Shakespeare 400 benefited from the support of the British Council. 10 Friends of EFF – a section created with the generous contribution of 10 directors, honorary ambassadors of the Festival in the latest 10 years. LUX Film Prize and Escape in Europe sections were developed with the assistance of the European Parliament Information Office in Romania and the Festival One World Romania.
Partners: the Filmmakers Union of Romania, the Romanian National Film Archive, Elvire Popesco Cinema Partners in local editions: Baia Mare: Baia Mare 2021 Foundation, Baia Mare City Hall Cluj-Napoca: Cluj 2021 Association, Cluj-Napoca City Hall Hunedoara: Corvin Castle Museum, Faculty of Engineering, Hunedoara City Hall Timișoara: Timișoara City Hall, Timișoara Culture Hall, Ambasada – project initiated by CASA PLAI Association Tîrgu Mureș: K'arte Association, ARTA Cinema, Tîrgu-Mureș City Hall.